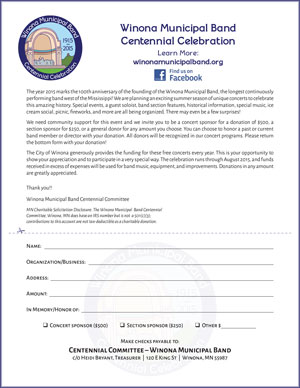 The Winona Municipal Band Centennial Celebration Committee needs your help!
All of the summer's special events will be community funded and we are counting on you to make a contribution. As you know, the City of Winona provides the funding for our free concerts every summer. This is a way for you to say thank you and for those of us in the band to make this a very memorable season!
Click on the letter (right) to bring up a printable .pdf of our fundraising letter, including a form for making your contribution.
Please note: because this is a one-time series of events, we are not filing for non-profit status. Business donors will benefit by their exposure to our audiences in our weekly printed programs along with recognition on our website. Individuals will also be listed in our programs and on-line. Show your community that you care about this amazing organization!
If funds are raised in excess of expenses, they will be used for band improvements such as new music and equipment.
If you have any questions or would like more information about how your donation will be used, please feel free to contact Heidi Bryant, Treasurer/Webmaster at [email protected].
Thank you in advance for your support! We look forward to seeing you this summer at the bandshell!