The Winona Municipal Band in Winona, Minnesota celebrated its centennial year in 2015! It is the oldest continually performing city band west of the Mississippi River. Visit the Centennial section of this website to learn more about the celebration.
The City of Winona will celebrate the centennial of our Historic Winona Lake Park Bandshell in 2024. Click here to learn more about plans to renovate the structure and the surrounding area, and how you can support this exciting project.
---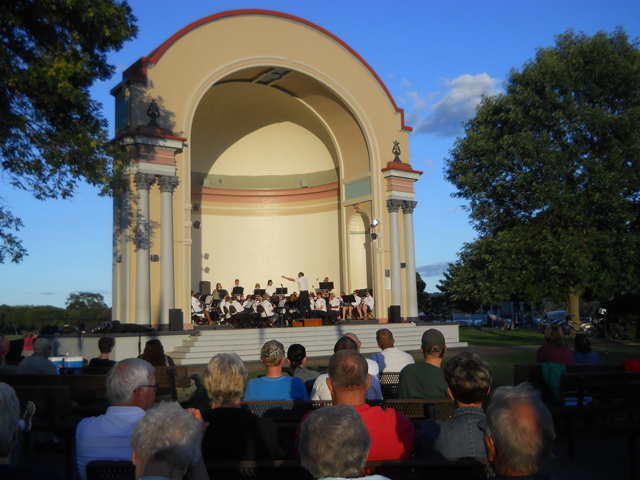 Please stay tuned to Facebook and the City of Winona website for more updates: cityofwinona.com.
The 2022 season runs from June 15th through August 17th, Wednesdays from 8:00 – 9:00pm at Winona's historic bandshell in Lake Park. If the weather is questionable, call 507-457-8220 to find out if the performance has been canceled. The Star Spangled Banner Arr. Bowles Fanfare for Hope A. Eric Heukeshoven Shenandoah Frank Ticheli Second Suite…
The 2022 season runs from June 15th through August 17th, Wednesdays from 8:00 – 9:00pm at Winona's historic bandshell in Lake Park. If the weather is questionable, call 507-457-8220 to find out if the performance has been canceled. The Star Spangled Banner Arr. Bowles The Big Cage Karl King Persist B. Brooks Ballet Music from…
The 2022 season runs from June 15th through August 17th, Wednesdays from 8:00 – 9:00pm at Winona's historic bandshell in Lake Park. If the weather is questionable, call 507-457-8220 to find out if the performance has been canceled. The Star Spangled Banner Arr. Bowles The Sheffordshire Regiment Kenneth Whitcomb Theme from Shindler's List Williams, arr.…