The Winona Municipal Band in Winona, Minnesota celebrated its centennial year in 2015! It is the oldest continually performing city band west of the Mississippi River. Visit the Centennial section of this website to learn more about the celebration.
The City of Winona will celebrate the centennial of our Historic Winona Lake Park Bandshell in 2024. Renovations to the structure will begin following the 2023 Winona Municipal Band season.
Join us for a full season of concerts in 2023: June 14th through August 16th, Wednesdays from 8:00 - 9:00pm at Winona's historic bandshell in Lake Park. If the weather is questionable, call 507-457-8220 to find out if the performance has been canceled.
---
Program for August 16, 2023 - Final Concert of the Season!
| | |
| --- | --- |
| Star Spangled Banner | Arr. Bowles |
| The Standard of St. George | Kenneth Alford |
| When Jesus Wept | Schuman arr. Billings |
| Four Scottish Dances | Arnold arr. Paynter |
| You're Welcome | Miranda arr. Conaway |
| Tuba Tiger Rag | Henderson arr. Marshall |
| King Cotton March | John Philip Sousa |
| Porgy and Bess Medley | Arr. Bob Lowden |
| America The Beautiful | Ward arr. Dragon |
---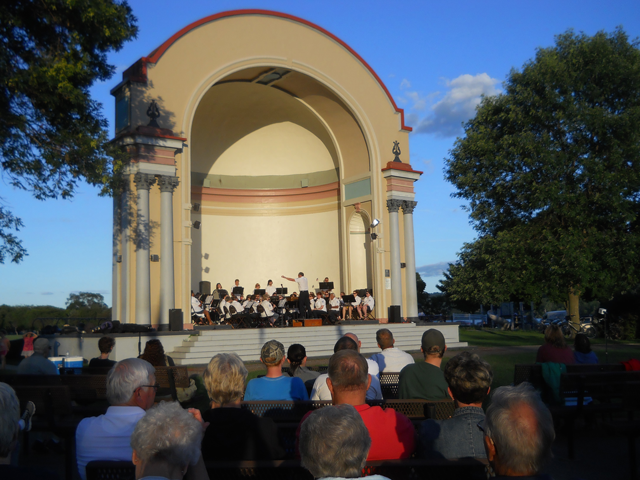 Please stay tuned to Facebook and the City of Winona website for more updates: cityofwinona.com.
Good news! Donations to the celebration of $100 or more are now tax-deductible! Please make your check out to "Winona Municipal Band Centennial Committee" and mail it to: Heidi Bryant, Treasurer 120 E King St Winona, MN 55987 Donors in the $100+ category will receive a donation receipt for your tax filing. Remember – donations…
The Winona Municipal Band Centennial Celebration Committee needs your help! All of the summer's special events will be community funded and we are counting on you to make a contribution. As you know, the City of Winona provides the funding for our free concerts every summer. This is a way for you to say thank…
A lot of special music and events are planned for our 2015 centennial season! Check back in with us to learn more!