June 10 – Opening Centennial Season Concert
Our Centennial Concert Season is here at last! The committee has been at work since last fall getting ready for this very special event.
| | |
| --- | --- |
| The program for the June 10, 2015 concert is: | |
| The Star Spangled Banner | Traditional |
| Rough-Riders | Karl L. King |
| NIMROD from "Enigma Variations" | Edward Elgar (arr. Bocook) |
| Light Cavalry | Franz von Suppé (edit. Schissel) |
| Blue Danube | J. Strauss |
| The Lord Of The Dance | Ronan Hardiman (arr. Saucedo) |
| The Thunderer | John Philip Sousa (arr. Brion & Schissel) |
| OKLAHOMA | Richard Rodgers (arr. Leidzen) |
| America The Beautiful | Arr. Dragon |
Our Concert Sponsor for the evening is the Winona Steamboat Days Festival Association. Special treats are being provided by Lakeview Drive Inn.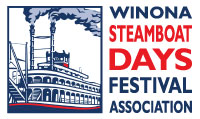 The Winona Steamboat Days Festival Association is proud to help kick off this Centennial Season as the first Concert Sponsor. Various committee members are on hand so you can purchase your $5.00 Steamboat Days Button and pick up your Schedule of Events. The official start for the Steamboat Days Celebration is Wednesday, June 17 and it will continue through Sunday, June 21, 2015.
The first Winona Steamboat Days was held July 21-25, 1948. The purpose of this celebration was to honor the river men who piloted the river boats during the bygone Steamboat Days era. River men from Minneapolis to St. Louis were invited to attend the first Homecoming Banquet held at the Hotel Winona. Over 100 old time river men were honored at this banquet.
All of the stage shows were held on a stage built out over the water at the foot of Center Street. Some of the highlights were band concerts, a "hole-in-one" contest, bait casting and archery at Lake Park, retrieving dog trials at Westfield Golf Course, and boxing matches in Gabrych Park. On Sunday, hydroplane speed boats raced on a 3-mile course on the Mississippi River for a $1,000 purse. Drivers were from over 20 states.
The Miss Winona Pageant, already two years old, incorporated its Third Annual Pageant along with the festival. The pageant had an unusual twist – not only was a new Miss Winona crowned, but a Miss Steamboat Days and her two attendants were also selected.
The Wolf Greater Shows Carnival played on Main Street from 4th to Front Streets during all five days. The 1948 Steamboat Days Button sold for $1, admitting guests free to all events. It was estimated that 50,000 people attended the first festival!
The Winona Area Jaycees ran the celebration for many years until 2001, when the current Winona Steamboat Days Festival Association took over. This is the volunteer associations 14th year of hosting the community-wide event.
Many changes have taken place since the first celebration 67 years ago. With the people of Winona and the surrounding area's continued support, there will be many more celebrations. Visit winonasteamboatdays.com for a complete list of events, including a few new ones!